Whether you're looking to live a healthier lifestyle or help those around you, many online programs help people diversify their understanding of holistic health.
For instance, diving into an Institute for Integrative Nutrition review can give you a deeper look into what the school and programs offer.
Before enrolling, it is important to pick the programs apart and weigh them against tested and proven options in the health coaching industry.
In this honest review, we'll go over what the Institute for Integrative Nutrition is, its programs, and its pros and cons.
I guarantee that, by the end, you will know whether it is the right holistic health option to help you thrive in your daily life.
Table of Contents
What Is the Institute for Integrative Nutrition?
In the simplest terms, the Institute for Integrative Nutrition (IIN) is a school designed to teach students and health coaches about holistic health and nutrition.
You can use your newfound education in your personal life or if you are interested in opening your own health coaching business.
The school boasts over 30 years of experience training health coach professionals, helping them unlock their true potential.
What makes IIN courses unique is that they are personalized and tailored to the student.
Every health coach will get transformative and innovative online wellness education to fuel their future career.
Along with teaching integrative nutrition, students explore relationships, mental well-being, and other aspects of their future careers.
For me, it opened the door to several fruitful opportunities that my eventual clients were able to benefit from.
Through my studies, the IIN taught me how to maintain a healthier relationship with food.
It also showed me the importance of bio-individuality and ensuring each client gets tailored advice for their needs.
If there is one thing I can guarantee, the online courses from the IIN helped me become a better, more well-rounded health coach.
How Does Online Health Coach Schooling Work?
One of the main questions I had before becoming a health coach through the Institute for Integrative Nutrition was how it worked.
Of course, online education has skyrocketed in popularity since.
But at the time, I couldn't understand how health coaches were getting a thorough education without being in a classroom environment.
That said, the IIN thoroughly impressed me, offering a training program experience that was innovative, inspirational, and immersive at the same time.
The first fascinating element was that the school allows you to review a sample class before signing up, so you know what you are getting into.
This was particularly helpful because it guaranteed I was putting my money into a trustworthy platform that many other worldwide health coaches used.
A few key elements I discovered during the trial and my enrollment included:
Mentors
During my studies, I was amazed at the number of insightful professionals involved in the teaching process.
With over 95+ coaches, faculty, and guides, there was always an industry leader available for advice.
In my classes, I sat in on lectures and talks from Dr. Deepak Chopra, Dr. Mark Hyman, and Joy Bauer, to name a few.
Personal Transformation
If there is one key element to note with IIN's programs, it is that they put massive importance on personal transformation.
Not only did I learn how to empower myself through a healthier lifestyle and diet but also learned how to help others do the same.
Understanding that the health journey is different for each person is a vital component of the coursework.
Learning Materials
As this program is taught to aspiring health coaches online, you will need plenty of learning materials.
In my personal experience, I found the trove of resources phenomenal.
In the IIN Learning Center, the resources included discussions, video lectures, audio recordings, handouts, and more.
Real-Time Assistance
A massive component of my personal growth as a professional was the real-time help I got through my courses.
Whether through coaching calls or live virtual coaching sessions, I always had access to an Integrative Nutrition Health Coach when needed.
With one-on-one guidance, this gave my coursework a more personalized feel.
Assessment Tools
In any course in the wellness industry, the only way to guarantee a health coach is prepared for employment is to regularly test them.
The IIN understands this and has numerous tools available for evaluations and assessments during your studies.
You will gain essential information and retain it as you would with traditional schooling.
What Is the IIN Curriculum Like?
Much like looking over a sample class, the IIN allows you to download a curriculum guide for a deeper understanding of what to expect.
I found the curriculum to help boost my career in health coaching by focusing on the transformative aspects of the health community.
Within 41 course modules, I explored numerous fundamentals that could assist with a complicated health issue or opening a business after graduation. 
Let's dive into a few key features of the Institute for Integrative Nutrition's curriculum:
Fast-Tracked Learning
When becoming a health coach, you will want to have enough coaching experience to open a business in less time.
With this school's curriculum, most of my peers and I earned our education within six or 12 months.
Interestingly, the school offers courses in both English and Spanish, perfect for all students.
Scientific Approach
I had an issue with other nutrition programs: they never backed their teachings up with actual science.
At IIN, all of the coursework delves into the science behind wellness. Some of the most fascinating topics we explored included nutrigenomics and biohacking.
Lifetime Access
Another huge benefit that sets these courses apart from others in the wellness industry is that you always have access to it.
You can review your existing health coaching homework from any device after finishing your studies.
It was incredibly easy to log in and review my notes, whether I was on my laptop, phone, or tablet.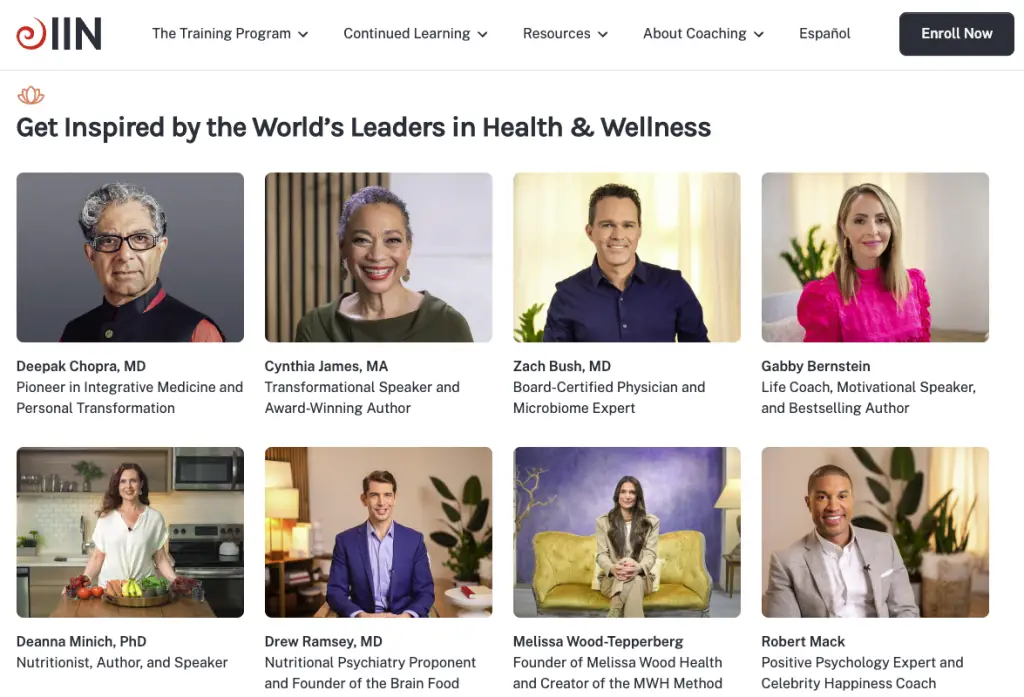 Health Coaching Training Program Concerns
As you can likely tell, there wasn't a shortage of content to dive into when exploring holistic approaches to a healthier lifestyle with the IIN.
With all of the unique approaches to health, I was able to gather vital information to help boost my body's health as well as those around me.
It truly was one of the better options than other health-related courses in my area.
Then again, as helpful as the Institute for Integrative Nutrition's curriculum has been in my life, there are surely some factors to consider before enrolling.
No program is perfect, and if you are looking for an unforgettable educational experience, these disadvantages are important to note:
Unique Approaches to Wellness
One of the largest concerns I had with the programs at IIN was that a few of the taught fundamentals clashed with one another.
For example, in two classes, you would learn about Ayurveda, a practice that offers food choices based on body type.
However, one class would focus on a specific element that another course would say didn't exist in Ayurveda.
That said, it was vital for me to do a little extra reading outside of the standard classroom experience.
By fact-checking third-party resources and the science behind contested context in my courses, I learned the truthful aspects of wellness.
Choosing a Degree-Oriented Program
Undoubtedly, the educational experiences you get at the Institute for Integrative Nutrition can help you work towards an associate's or bachelor's degree.
However, you will have to attend a separate institution to get the four-year education you have been looking for.
At the Institute for Integrative Nutrition, students earn certificates rather than full degrees, especially as most of the coursework is completed within a year.
To become the best professional for my coaching clients, I needed to continue my schooling for an additional four to seven years.
That said, I researched the best courses accredited by the Commission on Accreditation for Dietetics Education to fuel my future career.
Self-Led Learning
The third and final important thing to note before signing up for courses through the IIN is understanding you are in total control of your learning.
It is pretty different than attending school in person. You don't have professors to hold you accountable for submitting work on time or completing your readings.
The success of your schoolwork depends entirely on you and how you complete your additional courses.
Institute for Integrative Nutrition Review: The Verdict
Attending the Institute for Integrative Nutrition gave me the basic knowledge I needed to better develop connections with people while recommending a healthier, holistic, balanced diet.
To become a health coach with a degree, I had to attend a two- to four-year program to further my expertise and studies.
Aside from reading this Institute for Integrative Nutrition review, I recommend exploring what the IIN's lifestyle and diet programs offer.
It can give you supplementary education to help diversify your alternative medicine experience.