A Precision Nutrition review can help you decide whether the web's most popular nutrition coaching business is worth the investment.
As a former health coach, I have tried coaching program after coaching program to gather in-depth insights into dietary interventions, nutritional science, personalized nutrition, and more.
By the end of this review, you will know what you need about the certifications and courses that Precision Nutrition offers to help you diversify your experience as a health coach.
What Is the Concept of Precision Nutrition?
According to the platform, Precision Nutrition (PN) is one of the world's top companies producing nutrition coaches.
Since 2005, this nutrition company has offered a certification program that assists with coaching clients from numerous renowned businesses.
For example, they have been said to work with Nike, the San Antonio Spurs, the Carolina Panthers, and more.
Within the courses they offer, you will be able to earn a Level 1 Certification, which we'll explore in greater detail below.
There is also the option to dive into the PN Master Health Coaching Certification, their industry-leading program that can be completed within 20 weeks.
It is said that with the completion of programs in the field of Precision Nutrition, coaches can be among the top 1% of professionals worldwide.
What Is a Level 1 Nutrition Certification?
The central premise of the Level 1 Nutrition Certification is to give students industry-leading insights into nutrition science.
By completing the program, you should feel qualified to coach anyone in the science of nutrition, whether that be a celebrity client dealing with weight gain or a family member with a health condition.
In a nutshell, you will unlock the fundamentals of personalized nutrition, ensuring you have the keys to helping yourself and those around you to achieve their desired health outcomes.
Currently, the Level 1 Nutrition Certification has a waitlist, which you can join for free.
Joining the waitlist gives you a few other benefits, such as a discount on your studies, free coaching resources, and extra tips for marketing yourself as a specialist in nutritional science.
Once accepted into the program, you will have access to a ton of valuable elements, including:
Deep Dives Into the Science of Nutrition
With PN's coaching program, you will explore the fundamental scientific aspects of living a healthier and more holistic lifestyle.
Students will go over the impact of macronutrient intake, calories, and micronutrients to get started.
From learning about the effects of individual foods on the body, you will get a deeper understanding of energy balance and energy transformation, metabolism, digestion, glycemic responses, postprandial responses, and more.
There is a reason Precision Nutrition's Level 1 Program is as popular as it is—its teachings are backed by science.
You will have all the proven fundamentals to help apply healthier steps in your clients' lives to help them better understand how individual food consumption affects their day-to-day.
You'll do more than just offer dietary advice. Using nutritional solutions backed by clinical scientists, you'll be helping your clients achieve life-changing results.
Thorough Approach to Nutrition
There is a common misconception about nutrition: the only thing that matters is the food you put into your mouth.
However, through my years of experience, I have learned that it is a blend of physical and mental health just as much as making healthier decisions.
PN's program takes a well-rounded and promising approach to your overall health, focusing on your mental and emotional health as well as your physical fitness.
Through its comprehensive framework, you will dive into how stress affects your cardiovascular health and overall health, the importance of sleep, and more.
With this knowledge, you can offer more behavior-change coaching to help your clients achieve long-lasting, sustainable weight loss results.
This may include anything from lowering salt intake and switching to artificial sweeteners to trying a low-fat diet to combat cardiovascular diseases.
Access to Experts
Students will find Precision Nutrition coaching takes a more independent and personalized approach than a standard teaching experience.
As a prospective coach yourself, you will have full control over your own studies rather than being guided step-by-step by an instructor.
That said, the program still gives you plenty of fantastic resources from health professionals and coaching peers.
You will be able to join study groups and work together to troubleshoot real-world coaching scenarios while also asking questions among your peers.
My favorite element was getting coaching advice from industry professionals, which gave me deeper insights into real-world issues I encountered in my future career.
Three Unique Textbooks
The three textbooks you get as a student with Precision Nutrition's coaching program have everything you need.
The boxset contains health maintenance tips, nutrition simulation models, and all other features of the field of Precision Nutrition.
Divided into three units, you will explore the following:
Unit 1
In this unit, students will review the introduction to Precision Nutrition.
It involves everything necessary to become a well-rounded health coach before diving into the next two units.
Unit 2
In this unit, students will explore the science of nutrition, such as metabolic responses and other individual responses.
This scientific-based learning is designed to be offered in an easy-to-understand format with diagrams, charts, and other visual aids.
Unit 3
The final unit gives you what you need for the application of Precision Nutrition.
You will have industry-proven coaching methods, access to step-by-step processes, and more.
Video Seminars
If you are the type of student who learns best using visual aids, you will love the digital aspect of Precision Nutrition's curriculum.
I found catalogs of videos and lectures for students to review, where each is based on the individual chapters in your text.
For a visual learner, I can definitely see how the informative videos help reinforce the written content in each of the three texts.
Tools, Forms, and Digital Content
Along with the study materials and tips from the fitness industry, the Level 1 Nutrition Certification has abundant additional resources.
I found over 40 questionnaires and assessment forms, helping you test your knowledge to earn a better education.
You can also use these resources with your clients, helping you better understand their needs as their personal health coach.
Another massive benefit I enjoyed from this study guide was the digital content, giving me insight into how to market myself as a professional.
As a member of PN's program, I received infographics, nutrition study snippets for my blog, and 70 pre-made social media posts to share with my audience.
There was also plenty of guidance when designing and posting digital content to my platforms, helping attract a larger audience.
Overall, the Level 1 Nutrition Certification is exactly what the average health coach needs to get their foot in the door.
You will have intuitively designed study guides, tips to help you build healthy responses to food, and resources to assist you with managing and bringing in new clients.
Undoubtedly, the systematic review of the subject is an all-in-one solution for anyone interested in diving into the field of precision nutrition.
What Is the Master Health Coaching Certification?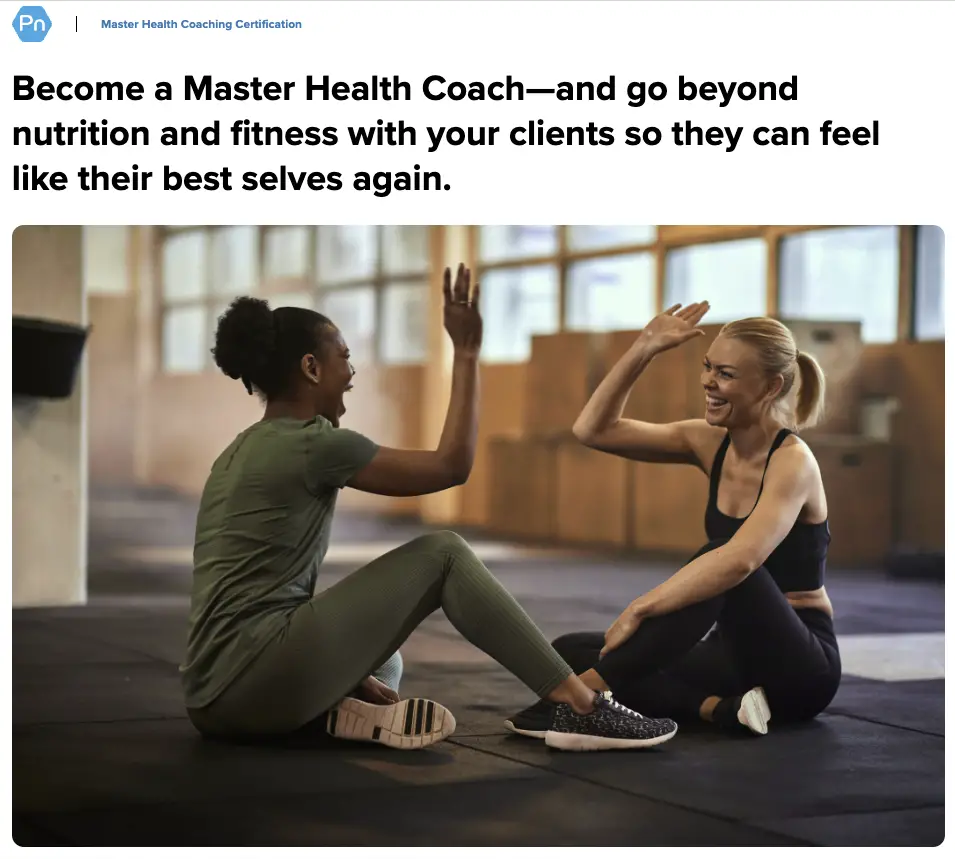 If you want to enhance the potential for Precision Nutrition to revolutionize your future, the Master Health Coaching Certification is a fantastic option.
This program is designed to help you beyond offering a fitness education, giving you the stepping stones needed to help your clients transform into their best selves.
The Master Health Coaching Certification takes an innovative approach to exploring postprandial responses, dietary intake, and body composition through the eyes of industry-leading coaches.
What I found most helpful from this course is that the National Board for Health and Wellness Coaching approved the training.
I could also use the credits as continuing education credits toward additional health coaching certifications.
During my studies, I developed a deeper insight into how to help my clients identify and remove obstacles in their daily life.
As a result, I am able to help them lose body fat and develop healthier responses to food.
Some fundamental areas I explored during my studies included stress management, mental health, optimizing sleep, and focusing on emotional well-being.
In addition, many course elements revolved around the optimal diet to reduce body fat, general health recovery, and how exercise can help lead to a healthier lifestyle.
Compared to the Level 1 Nutrition Program, this coaching option offered master-level information in an easy-to-digest, bite-size format.
Let's dive into some fascinating elements you will have access to when you add the master coursework to your Precision Nutrition plate.
Board Certification
The most notable element of this program is that it helps you get to Level 2 of Precision Nutrition's coaching certification.
As mentioned, the program is accredited by the National Board for Health and Wellness Coaching.
One relevant aspect of this is that, after your studies, you will have the credential to become a board-certified health and wellness coach.
That said, I took this coursework and credential and moved on to a four-year program for an even more in-depth degree.
As the courses were accredited, I could put them towards higher education, helping me spend less time in college and more time working towards helping my clients.
In-Depth Scientific Based Learning
The number of tenets explored with the Level 2 coursework is everything you need to be a well-seasoned health coach with numerous specialties.
Aside from helping clients develop healthier diets and workout habits, you also get into science-based items.
These include nutrient requirements, food behaviors, and even microbiome profiling.
Each facet of your studies will be based on previous studies, helping you fill your Precision Nutrition plate with actual, science-backed facts rather than pseudo-science.
A few examples of other nutritional advices we explored in our coursework include:
Different types of dietary assessment methods
How genetic factors can influence health
The different types of metabolic syndromes
Nutrition for prevention of chronic diseases
Deep health elements like healing the gastrointestinal tract
Various traditional risk factors that could lead to metabolic disturbances
How to optimize the flow of nutrients in the body
The impact of livestock industries on food development
Professional Insights
Five primary minds worked together to develop the Master level training in Precision Nutrition.
Each professional is an industry leader in their own right, with some being advisors and coaches to worldwide conglomerates.
Others spread health awareness through authoring and teaching.
The fundamental elements of the coursework feature industry-leading tips and real-world advice that every health coach needs to make the most of their career.
A few of the individuals involved in the development of Precision Nutrition's Master level classwork include:
John Berardi (Ph.D., CSCS, Co-Founder)
Advisor to Nike, Equinox, Titleist, and Apple
Krista Scott-Dixon (Ph.D., Program Creator)
20+ years of experience in curriculum design and adult education
Author, academic published author, and article writer for psychology, nutrition, and fitness
Toni Bauer (BA, CPT, Program Director, Lead Instructor)
Certified through the National Academy of Sports Medicine and Precision Nutrition
Former business fitness owner with over 10 years of seasoned coaching experience
Jason Bonn (MLA, CSCS, Coach)
Certified by the National Strength and Conditioning Association
BS in Physical Education and a Master's in Coaching
7+ years teaching and 9+ years Precision Nutrition experience
Dominic Matteo (CPT, Coach)
National men's rugby competitor with nutrition and fitness experience
Health and fitness coach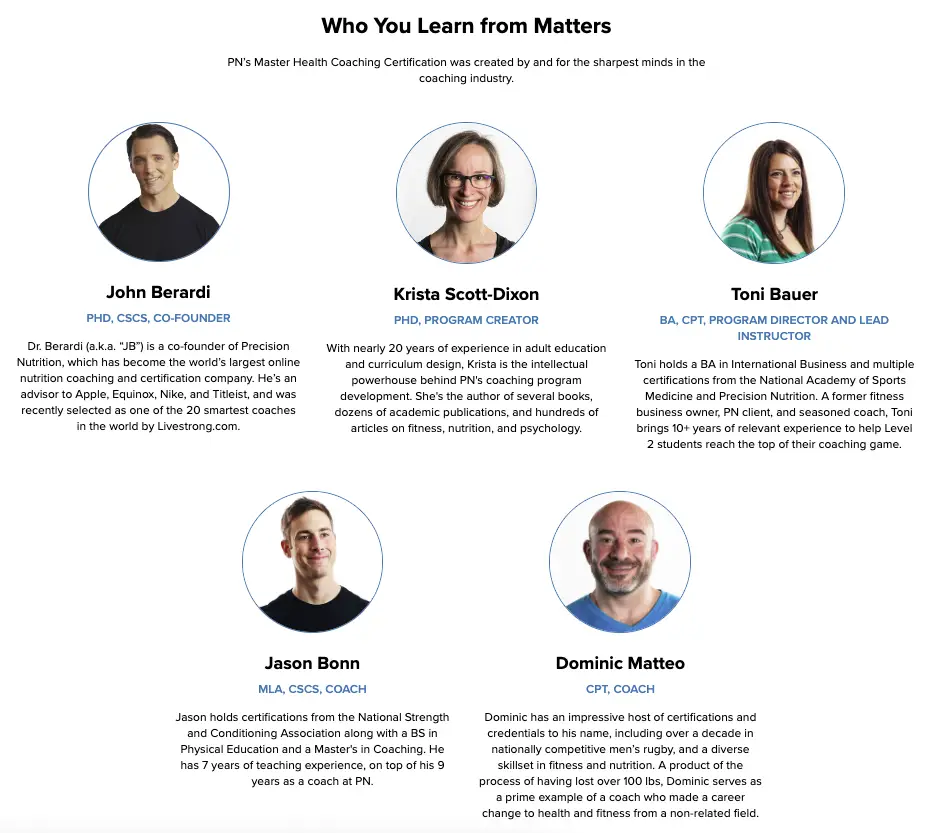 Continuing Education Credits
As previously mentioned, one of the main reasons I signed up for PN's program is because I could use my education towards continuing education.
With my certification, I could put it towards continuing education credits with several worldwide organizations, including the Academy of Nutrition and Dietetics.
It helped make my university experience more seamless, putting my hands-on, real-world knowledge to good use.
Live Sessions
Precision Nutrition's teachings are primarily completed on your own time, making it a fabulous solution for working professionals.
However, I also love how they implemented live sessions in their curriculum.
When enrolled, you will spend up to eight hours in live online learning sessions weekly, helping you apply your education to real-world and special scenarios.
There are also weekly coaching tips and an online forum to help you improve your studies for a better client-based experience.
These options, paired with live coaching workshops, made it a remarkable learning experience for someone who learns better with visual elements.
Precision Nutrition Review: The Verdict
One of the main things I learned in my Precision Nutrition review was that the quality of the coursework was well worth the money and time I spent.
Also, the credits qualifying as continuing education credits for other accredited programs made a massive difference compared to other health coaching programs.
With a great blend of insightful and science-based nutrition education, this was one of the top programs I would recommend.